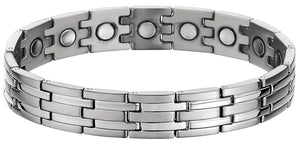 Product Description
15T "On Track" Titanium Magnetic Bracelet is one sweet ride for those who like to travel in style. 15T is 1/2" wide and finished with three brushed and two polished "On Track" rows straight down the middle.
Light as a feather but strong as a bull in more ways than one we have embedded permanent 3800 Gauss Rare Earth neodymium, north facing, magnets.
Stay focused, stay on task, stay "On Track" with 15T and conquer your challengers both on and off that course of life.

15T "On Track" Titanium is factually stronger than gold or platinum and is three times stronger than steel. Titanium as you may know will not irritate or discolor your skin and will not harm the body in any way. As a result titanium is used by the medical and dental fields in surgical implants, bone screws, hip replacements, heart valves and more.
Just like in golf some like the weight of a steel club and some like clubs made primarily of lighter weight materials. Know thyself (some ancient golfer once said) or know of someone else who might prefer or possibly need a featherweight titanium magnetic bracelet as a Christmas, Hanukah or "ANY Occasion" gift?

The medium size @7.5" contains 15 magnets & the Large @ 8" has 16 magnets & the XL @ 8.5" contains 17 magnets totaling 57,000, 60,800 & 64,600 total Gauss strength respectively FYI.

This item will ship tomorrow via USPS First Class Mail and be at your door within 2-4 days w/tracking when an e-mail address is provided at checkout FYI.