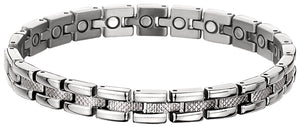 Product Description
21T "Titanium Charmer" is a sleek 1/4 ' wide
This Featherweight titanium magnetic bracelet is embedded with powerful 3800 Gauss laser point neodymium magnets in each link.

Love is never having to say, "I wish it were titanium". Titanium is three times stronger than stainless steel yet one third the weight. Titanium doesn't irritate even the most sensitive skin, a real concern for many. Titanium is completely inert, not alloyed with anything such as copper or nickel. As you know this "Magic Metal" is used widely in the medical field to replace heart valves, hips, dental implants etc., etc. Titanium will not discolor your skin and will not harm the body in any way.

A wide variety of our customers including the "elderly" the "upscale" and countless athletes have expressed an interest in our titanium magnetic bracelets and we think you will consider this Titanium Charmer to be a winner.

How many magnets per magnetic bracelet you ask? 6.75 = 15

The unisex design will work well with both men and women.