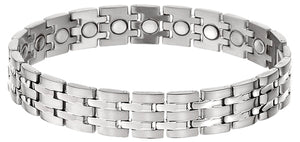 Product Description
26T Titanium Casey Jones "Silver Streak Railroad"
Magnetic Bracelet is 1/2 inch wide with shiny polished "Silver Streak Railroad" tracks going wherever you take them right down the middle of this piece. Your the boss , you're the conductor of this engine and with powerful north facing neodymium magnets in every link no one is going to get in your way.

Each bracelet has 19, 20 & 22 magnets in each respective size so @3800 Gauss per magnet you have 72,200, 76,000 & 83,600 Gauss per bracelet. Wow, that's a lot power and "permanent" magnets will lose only 1% of their strength every 10 years.

Please refer one or two friends at work as your great word of mouth promotion has become our best form of advertising and helps us to continually bring new and different products and styles to market. We appreciate and thank you for your great effort to promote our products.

This item ships the day after you order it and will be at your door within 2-3 days with tracking (when e-mail address is provided @checkout) via USPS priority mail.

Its full speed ahead with 26T Titanium Casey Jones "Silver Streak Railroad" Magnetic Bracelet where YOU stoke the engine and let it go.....and go... and go.