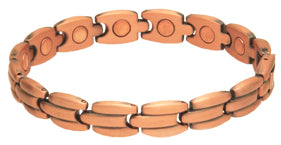 Product Description
2D Antique Copper Bracelet Link Style

Want an earthy look with magnets in every link too? Know someone who wants a magnetic link bracelet but somewhat toned down? No problem - we can fill your order with our new and different (faux copper) link design with 2500 Gauss magnets in every link of this alloy smart buy.
How many links per bracelet size you ask?? Small has 12 links, Medium has 14 links and Large has 15 links & XL even more!!
(Please note there is no copper content in faux copper contrary to the copper look - this is a magnetic link bracelet and a darn good looking one at that.)