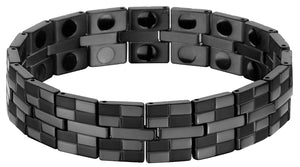 Product Description
Sold Out We Are making More!!
Best Gift & Most Powerful Magnetic Bracelet....EVER. Really.
 42TG with Gun Metal Black Finish & Brand New is here and @ 5/8 wide is called "Big Foot" appropriately enough because it makes such a HUGE Impression.

This magnetic bracelet has permanent laser point north facing 4000 Gauss neodymium magnets in every link. " " is So Big you probably have noticed in fact that he has Two Magnets per link or a whopping 8000 Gauss in each and every link. No One Has A Stronger Bracelet.

This is our most powerful magnetic bracelet.

 As you may know titanium is factually stronger than gold or platinum  and is three times stronger than steel. Titanium will not irritate or discolor your skin and will not harm the body in any way. As a result titanium is used by the medical and dental fields in surgical implants, bone screws, hip replacements, heart valves and more. A titanium magnetic bracelet can be expected to long outlive the wearer and this "Magic Metal" is lovingly used now to craft our 42TG titanium magnetic bracelet.

Please be diligent & measure your wrist before ordering & Then purchase the size just slightly larger than your wrist measurement.


This bracelet has a snap clasp and completely opens and lies flat when not worn. With between 30 and 38 magnets at 4000 Gauss per magnet we have achieved the following total gauss ratings of 120,000, 136,000, 144,000, 152,000 total gauss.

 "Big Foot" with Gun Metal Black finish has alternating patterns of brushed and polished bars in each link making it a truly unique piece of jewelry even if it had no magnets – But Oh does it have magnets, Enjoy.

 Your order will ship's Same day when ordered by 12pm PST Daily or if after 12pm PST the following day via USPS First Class Mail. Your Order will be delivered within 2-4 days w/tracking when an e-mail address is provided at checkout FYI.

Our 60 day unconditional money back guarantee allows you to shop with confidence and comfortably get you through any sizing exchange you may require as well.