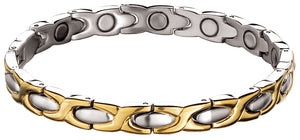 Product Description
5T Titanium "Hugs & Kisses, Our Most Popular" Style
Our Hypo Allergenic "Magic Metal" Titanium is three times stronger than stainless steel yet one third the weight. This Bracelet will Last & Last & Last.
Features:
High Quality North Facing Magnets
Powerful laser Point Magnets Never Lose Their Strength
Magnet Strength: 3800 Gauss Each Magnet
Weight ¼ Ounce
Width: ¼ Inch
Metal: Feather light Hypoallergenic Titanium
Clasp: Fold Over Snap
Magnet Quantity: 10 - 14 Depending on Size
Great Gift Idea: YES
Click to Enlarge Under Bracelet for More Detail
60 Day Unconditional Satisfaction Guarantee.
Measure Wrist & Select Closest Size Just Bigger Than Actual Wrist Size
Satisfying Customers Since 1996
Qualifies For Free Cable Style Magnetic Bracelet at Checkout
We Ship Fast & Free via USPS First Class Mail on all Orders over $25. Receive your order in 2-4 days With Tracking Via e-mail.
Titanium Is Three Times Stronger Than Stainless Steel yet one third the weight Titanium doesn't irritate even the most sensitive skin,
a real concern for many. Titanium is completely inert, not alloyed with anything. Titanium will not discolor your skin and will not harm the body in any way.
Our customer base is diverse with athletes, the elderly,
and the "Upscale" professionals & YES we can ALL shower or swim with this one on!