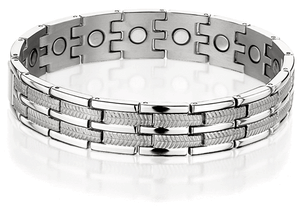 Product Description
Purchase One For Yourself Or As A gift.
65% Off Insert the following discount code at checkout: 8T


8T Titanium is 1/2 inch wide & Crafted With Featherweight Hypoallergenic CP2 grade Titanium.

This magnetic bracelet has permanent rare earth north facing 3500 Gauss Neodymium Magnets in every link.

8T Has 16,17 or 18 magnets depending on the size you choose & that is a lot of power!

"As you may know Titanium is Factually Stronger than gold or platinum and is three times stronger than steel.

Titanium will not Irritate or Discolor your Skin and will not Harm the Body in any Way! As a result titanium is used by the medical and dental fields in surgical implants, bone screws, hip replacements, heart valves and more.

A Titanium Magnetic Bracelet can be expected to long outlive the wearer and this "Magic Metal" is used now to craft our 8T That we refer to in house as "Pure Elegance".

Do you know of someone who you think might need a featherweight, hypoallergenic, super powerful titanium magnetic bracelet as a gift today?

Your order will ship tomorrow via USPS First Class Mail and be delivered w/tracking when an e-mail address is provided at checkout FYI. Our 60 day unconditional money back guarantee allows you to shop with confidence and comfortably get you through any sizing exchange you may require as well.

REMEMBER when buying for yourself to PLEASE MEASURE your wrist first, then select the size just bigger than your actual wrist size.

Permanent rare earth neodymium magnets mean the magnets will not lose their strength over time and make a big difference when selecting a magnetic bracelet. (They actually lose 1% every ten years).

Take a closer look with our "Click to Enlarge" feature underneath the bracelet picture for a close up.