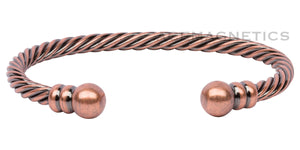 Product Description
Our "Antique"Copper Magnetic Bracelet Cuff Style finish has 2000 Gauss laser point neodymium magnets embedded in each sphere.

Enjoy a classic cable piece of copper magnetic jewelry that slides on and off with ease that is priced "Just Right".

Thanks for shopping our site and please remember your promotion is our best form of advertising so please tell at least one friend about our copper & magnetic selection today.

Your Order Will Ship Tomorrow via USPS First Class Mail and be Delivered within 2-4 days w/tracking when an e-mail address is provided at checkout FYI.

Permanent neodymium magnets mean the magnets will not lose their strength over time and this fact makes a big difference when selecting a magnetic bracelet!

Your Buying one of our Most Popular Bracelets - Your Gonna Really Like it!!