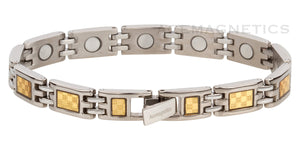 Product Description
"Honey" 59T Titanium Magnetic Carbon Fiber Bracelet

This time we have Molded Hypoallergenic Titanium and Gold Leaf Carbon Fiber together for what we think is a very classy & Comfortable to wear design. Suitable for either a man or a women our "Honey" Design is a perfect Holiday Gift Idea! Did You Notice the checkerboard squares within the Carbon fiber inlay?

"Honey " at 1/4'  wide is both powerful and strong in that titanium has 3X the strength of stainless steel and half the weight. We have embedded Permanent Rare Earth Neodymium Magnets @ 3000 Gauss in each and every link, which make a powerful statement. (10 or 11 depending on size)

Tell me More? About Carbon Fiber from Wikipedia Carbon fiber, alternatively graphite fiber, carbon graphite or CF, is a material consisting of extremely thin fibers about 0.005–0.010 mm in diameter and composed mostly of carbon atoms. The carbon atoms are bonded together in microscopic crystals that are more or less aligned parallel to the long axis of the fiber. The crystal alignment makes the fiber very strong for its size.

About the metal used to craft this piece. As you may know titanium is factually stronger than gold or platinum and is three times stronger than steel. Titanium has the highest strength-to-weight ratio of all metals. Titanium will not irritate or discolor your skin and will not harm the body in any way. As a result titanium is used by the medical and dental fields because of its Hypoallergenic properties.

This all adds up to "The Right Choice" in metals, materials & Style when selecting "Honey"  (Limited Holiday Supply).  Only Size 8.5 Available, Limited Stock...