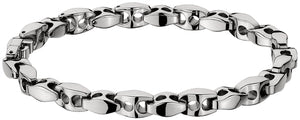 Product Description
"Links" Titanium Bracelet Jewelry Non Magnetic
"Links" titanium bracelet is a fusion of one of the hardest metals on earth with one of the softest designs to the eyes.  Our Hypoallergenic "Links" titanium bracelet will slide up and down your arm and around your wrist so smoothly you will barely know you have it on – it is that lightweight.

The multidimensional highly polished design of our "Links" titanium bracelet is hip at any jazz festival or any corporate boardroom activity you might find yourself involved with. This bracelet is suitable for men and women.

As you may know titanium is factually stronger than gold or platinum and is three times stronger than steel. Titanium will not irritate or discolor your skin and will not harm the body in any way. As a result titanium is used by the medical and dental fields in surgical implants.

Your "Links" titanium bracelet is a gift that will get compliments for many years to come - it is that special.

This is the very first non magnetic titanium jewelry bracelet we have ever offered but it is so special once you put it on you will know why we had to present it to you. The design, the weight, the unique clasp are all that special!

This item will ship tomorrow via USPS First Class Mail and be at your door within 2-4 days w/tracking when an e-mail address is provided at checkout FYI. Our 60 day unconditional money back guarantee allows you to shop with confidence and comfortably get you through any sizing exchange you may require as well.