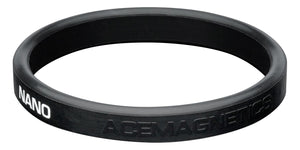 Product Description
All Sizes In Stock!! 
Our Patented "Rally Band™" 30 Nano Series
Optimize Your Performance With The Ultimate Sports & Leisure Band...Period.
Features:
Negative Ion Germanium Infused.

30 Powerful Laser Point North Facing Neodymium Magnets.

Size Small available with 20 magnets and is $10 less

.

Rare Earth Magnets will Lose 1% of their strength every 10 years, hence they are considered to be Permanent!

Individual Magnet Strength: 3500 Gauss Each Magnet.
Patented design, precisely crafted to appear to float encapsulated in a silicone band.
Most Powerful, Lightest Weight, Stretchable, Easy On Easy Off Magnetic Bracelet, Period!

No more fumbling with a difficult jewelry clasp.

Shipping is Free On Orders Over $25. Expect 2-4 Day Delivery On First Class Shipping

60 day Unconditional Money Back Guarantee since 1996

A Powerful, Patented & Affordable Gift Idea
The innovative Rally Band™ 30 Nano Series is appropriate for people of all ages. Whether you play a musical instrument or are a gardener, serious athlete or just dress like one we say, "finish as strong as you start every endeavor everyday!" Let our RallyBand Nano be your understated strong companion 24/7, we know you'll be pleased!
The Sizing Chart Above Right "In Inches" Works Just Fine, But For Those Of You Who Have Asked For More detailed Sizing Info Please See Below:
Small: Diameter: 54 mm, with internal circumference of 169.6mm match for wrist size below 165mm
Medium: Diameter: 59 mm, with internal circumference of 185.3mm match for wrist size from 165mm to 180mm
Large: Diameter: 64 mm, with internal circumference of 201.0mm match for wrist size over 180mm.
Fast and Reliable Delivery
Fits like a glove, a second skin, so lightweight you won't even know its on and the NANO is virtually indestructible, so why not order one today?