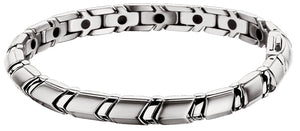 Product Description
Our not so traditional "Racer" Titanium Magnetic Bracelet is a fusion of one of the hardest metals on earth with one of the most creative designs we think you can find anywhere!
The "Racer" titanium magnetic bracelet will form to your wrist (when sized properly) and fit like a glove and is so lightweight you will barely know you have it on (only 8/10th of an ounce).

"Racer's" multidimensional highly polished inner links accent the alternating brushed links and come together with a push buckle jewelry clasp found on pieces costing thousands more.

Although this style is highly fashionable we have not skimped on our trademark use of north facing rare earth neodymium permanent magnets at 2800 Gauss strength in each & every link.

If you did not know, titanium is factually stronger than gold or platinum and is three times stronger than steel. Titanium will not irritate or discolor your skin and will not harm the body in any way. As a result titanium is used by the medical and dental fields, it's hypoallergenic!!

A titanium bracelet can be expected to long outlive the wearer (This is not necessarily the best thought to have when buying this piece but – you get the point – right? (It's going to last).

Sizing: Select the size that is as close to but slightly larger than your actual wrist size.

"Racer" is unisex by design, with 14, 16 or 17 magnets depending on your size that works for you. 

The "Racer" makes a wonderful and thoughtful gift given in good taste. The lucky beneficiary of your thoughtfulness will be complimented for many a year to come when you gift this piece, it is that special!

This item will ship tomorrow via USPS first class mail and be at your door within 2-4 days w/tracking when an e-mail address is provided at checkout FYI. Our 60 day unconditional money back guarantee allows you to shop with confidence and comfortably get you through any sizing exchange you may require as well.