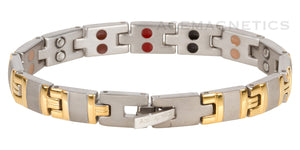 Product Description
The 53T is polished 18K Gold and Brushed Hypoallergenic Titanium. Our 4 in 1 holistic Style has a Rich, Clean, Smart and Classy Look. 18K gold plating is harder than 24K plating and is used for a longer lasting & more durable finish. Let's Take A Deeper Look….(Limited Size Availability)
High Quality North Facing Laser Point Magnets
Powerful laser Point Magnets Never Lose Their Strength
Magnet Strength: 3800 Gauss Each Magnet.
Calming Germanium, See Below.
Soothing Anion, Negative ions or anions are abundant in nature that the human body has adapted to over millions of years of evolution and thus an essential natural element for health.
Warming FIR, FIR stands for far infrared, which possesses a property to emit thermal heat.
18K Gold Plate Design
Weight 1/4 Ounce
Width: 1/4 Inch
Metal: Featherweight Hypoallergenic Titanium
Clasp: Fold Over Snap
4 in 1 Style
Colorful Unisex Style & Design
Measure Wrist & Select Closest Size Just Bigger Than Actual Wrist Size
Satisfying Customers Since 1996
Great Gift Idea? YES
53T "The Whole Enchilada" will be at your door within 2-5 days with Free Shipping & tracking via USPS First Class Mail (Faster Options Available at Checkout). Remember to include your e-mail address at checkout in order to be e-mailed your tracking number please.
We ship daily and We are
Old Fashioned
you might say Because YOUR Satisfaction is our # 1 Goal!